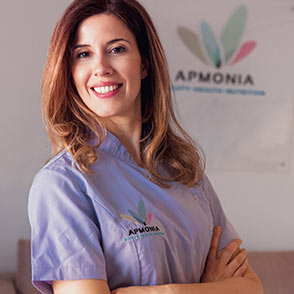 Constantina Dimitropoulou is a Medical Aesthitician –Cosmetologist holding a BSc from the Technological University of Athens. Her love for health and wellbeing lead her to the UK, where she studied Nutrition & Dietetics at University College London, with an MSc specialisation on Clinical and Public Health Nutrition. She is a member of SEPAE, the official Greek Association of Aestheticians-Cosmetologists and a member of the British Dietetic Association (BDA).
Over her 20 year experience in the fields of beauty and nutrition, she has established herself working with top exclusive clinics and luxury spas, such as La Prairie Art Of Beauty, Tharroe of Mykonos Luxury Hotel, Athenian Intercontinental ISPA, Elements Day Spa Clinic & Nutrimed. Constantina's philosophy combines scientific evidence and modern technology with an holistic approach. She carefully designs personal protocols, aiming to meet each guest's individual needs. Her inspiring advice motivate guests not only to improve their appearance but also adopt better nutritional schemes and invigorating lifestyle practices.
Welcome to our world…
Welcome to Armonia Wellness!